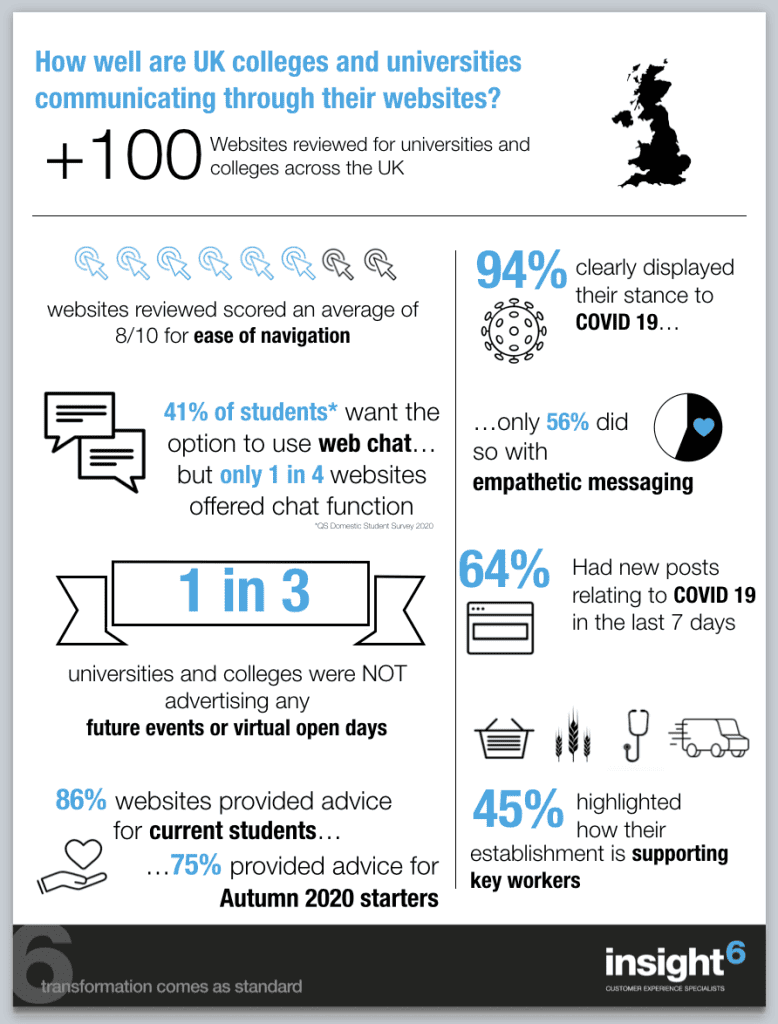 Over the past couple of months, businesses across the UK have had to find ways to adapt to the lockdown measures in place in response to COVID-19. The education sector is no different and we have already seen some major changes in the way colleges and universities are operating, including the decision by Cambridge University to run all lectures remotely for the 2020/21 year.
With an uncertainty about what education will look like within the next year, current students, new starters and potential new students alike will be visiting the websites of Colleges and Universities to seek out the information they need to know. The message that your website portrays to them is vital.
At insight6 we wanted to establish how well colleges and universities are communicating through their websites and so we asked our team of researchers to visit them through the eyes of a student. Across more than 100 college and university websites we discovered that:
Only 25% of the sites had a webchat facility despite, however according to the QS Domestic Student Survey 2020, 41% of students want this option

94% of the websites clearly displayed their stance to COVID-19 however only 56% of the sites did this with empathetic messaging 

14% of the websites left current students with no advice about any changes and 25% had no advice for students due to start in the Autumn 

45% of the sites highlighted how their establishment is supporting key workers 
One of the most striking findings was that one in three of the universities and colleges were not advertising any future events or virtual open days. This leaves a clear gap between the establishments that have adapted and those that haven't.
Selecting a college or university is a big choice for a student and so a virtual tour or event could go a long way in helping them to make their final decision on where they want to go.
Our six tips for communicating through your website: 
It sounds simple but keep your website up to date with the latest information. You don't want any of the messaging on the site to be out of date as this will cause confusion amongst students. If anything changes, make sure the website is updated to reflect this.

Make sure someone with a fresh pair of eyes takes a look at your messaging for you. When our researchers viewed the websites they did it through the eyes of a student. It is amazing the small things you will miss, or not realise are important when writing it yourself.

Regularly post updates through your social media accounts as students will be keeping an eye on these. It is a great way to keep students in the loop and then can then share these updates with other students.

Don't just think about the text, think about the colouring and the layout and how they might make someone feel. Words written in red text and using capital letters tend to make people feel concerned. Don't fuel the anxiety that students may be feeling by highlighting negative outcomes in red.

Make it as easy and as simple as possible for students to interact with you. If you are unable to have a webchat function on the site make sure it is clear what they need to do to get in touch, whether it is through a contact form, an email address or a phone number. If you can give them a couple of options this is even better.

Current and new students could be feeling anxious at this time, especially if they are unsure what is happening with the exams they were supposed to be sitting, or wondering what university life might look like next year. Using empathetic messaging to reassure students that you are looking out for them. Language such as "we are here for you" will help to ease worries they may have.
insight6 is here to support you. If you would like to talk with our experts about the messaging on your website, even if it is an informal chat over a (virtual) cup of coffee, then please leave us a message on the contact form below and we will be in touch. 
Look out for our next research in the education sector later this summer, which assesses how straight forward "The Applicant Journey" actually is across universities and colleges in the UK.
Arrange a call with your local Customer Experience Specialist: