We are within days of the dawn of a new year that according to the Walker report will be the year when customer experience becomes the key differentiator for choosing a product or service over price and the quality of the product. 2020 has to be the year that you get serious and make a plan for building your future business within the era of the experience economy if you have not already.
We do hope that this blog will help you on your customer experience journey by posing two key questions for you and your team:
1. How can I remove stress at each point in the customer journey?
2. How can I build a connection with my customer at each point in their journey?
In the last 7 months, we have hosted four LegalCX conferences across the UK. The purpose of the customer experience (CX) conferences has been to focus on the Legal industry and explore what does customer experience mean in the context of providing legal advice and how can it be improved.
The conferences have been hugely successful in moving customer experience to the top of the agenda in the minds of each attendee and providing effective steps to improve.
Is being excellent good enough to create a repeat customer and client?
The LegalCX south conference opened with the legal marketing expert, Clare Fanner, posing two questions about CX in the restaurant industry:
Question one: how many of the attendees have had a customer experience in a restaurant in the last month that they would rate as excellent?
In response, 75% of the people in the room raised their hands. The respondents described the 'excellent rating' was as a result of the great quality food, the waiter was friendly, efficient and looked after their party's needs. The environment was clean with good decor and the price of the meal represented great value with the prices being in alignment with the food quality, the environment and the service.
Clare then asked the second question: of those people that have had an excellent experience how many will return to the restaurant?
In response to this question, only 10% of the respondents' hands remained up with a
stunned and confused silence amongst the delegates as to how that could be the case.
How can a restaurant business deliver excellence and still not create repeat visits?
The answers to the two questions clearly communicated the context of the conference and the reason why so many had chosen to attend the LegalCX conference. Excellence is no longer good enough when there is so much 'excellent' competition that delivers on all the expected norms of quality.
What is the magic ingredient that makes a customer want to return?
The 10% of respondents who still had their hands up and were going to return to the restaurant described that they had experienced something in addition to excellence - they had a memorable experience that had planted the seeds of a new relationship that the respondents were invested in continuing.
It was clear that sitting in the room full of lawyers and accountants that the problem was not only specific to the restaurant industry. Being excellent is expected as standard and will not guarantee that a client or customer will return.
How can your business create a formula for repeat custom?
So how do you create an experience that is excellent AND makes your customers or clients want to return? Whether you are a law firm, an accountant, a private school or a coffee shop, what more can you do than be excellent?
The answer to this million-dollar question is to deliver excellent quality in everything you do AND create an emotional connection with the person you serve. In a nutshell, it is all about how you make the customer or client feel.
However, how can you do that when you are not in control of someone else's emotions and you do not have the superpower to make a client or customer feel a specific way?
If you have watched the brilliant Pixar film 'Inside Out' you will know this to be true! Creating a 'customer experience' is all about your intention and to ensure you act in a way that will enhance the way the other person feels. For example, the intention could be to create an experience that moves a customer in a coffee shop from feeling sad and alone to feeling part of a community or in a law firm to move a client from feeling confused and indecisive to a feeling of clarity and confidence.
How can you remove customer and client stress from your business?
The majority of customers/clients tend to be in a higher-than-usual state of stress and uncertainty in unfamiliar surroundings. With this knowledge what can you do to help your customers and clients in those first moments to make them feel welcome, secure, comfortable and happy to engage with you?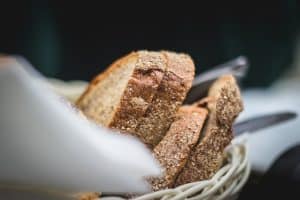 There is a brilliant example of how this understanding created a well-established ritual in restaurants. The assumption that guests are stressed when they enter a restaurant was the inspiration behind providing complementary bread once guests were seated. Eating creates a physiological response that powers up the parasympathetic nervous system in the body thus reducing stress. This creates
a calmer demeanour in guests and as a result they have a more pleasurable experience.
Another example is in an open morning for a private school where parents are making what feels like a once in a lifetime decision for their precious child. The ability to empathise and advise both parents, treating Mum and Dad as individuals to remove the stress and tension of the situation is vital for allowing them to feel safe and able to make a decision that is right for all parties.
So, what does playing host to stressed or uncertain people mean in your business? What can you do to aid your clients/customers' transformation into a calm, neutral state where they can be fully present to all the excellent elements of your service offering? And how will this be enough?
Have you de-stressed your customer and client journey map?
Often a customer journey map will include all the excellent standards that you are striving to achieve at each of the customer and client touchpoints. And what if you were to look at your customer journey and answer two extra questions.
1. How can I remove stress at each point in the customer journey?
2. How can I build a connection with my customer/client at this point in the customer journey?
The answers to the two questions will create the foundations of a customer experience
strategy that will add depth to the customer/client connections and increase the certainty that they will return.
If you would like our help in building and implementing a customer experience strategy that will transform your business, please email to arrange a customer experience audit call.