Your people are your company's most important asset. Cheerful employees are likely to be more productive, but employee engagement is complex - where do you start?
Engaging your team is critical to business success. The holy grail is to have employees who are excited to come to work each day. To achieve this, they need to do what they do best, feel connected to their coworkers, and be motivated by their organisation's purpose.
Creating a great working culture within your business ensures your team can provide the best experience for your customers and clients. Easier said than done, right?
Workplace culture is part of everything an organisation says and does, making it difficult to transform even when necessary. 
The one simple (but essential) thing leaders can do to improve employee engagement is regularly check in on staff wellbeing. 
Here we look at employee engagement in more detail and share our insights to help you measure the wellbeing of your staff.
What is employee engagement?
There's no common understanding of employee engagement. Academic literature describes it as a psychological state experienced by employees. 
Work engagement is a 'state of mind', suggests a group of occupational psychologists at Utrecht University. Rather than being burnt out, employees show: 
Vigour (energy, resilience and effort).

Dedication (enthusiasm, creativity and pride).

Absorption (concentration, engrossment in one's work).
The CIPD says it is separate from job quality, employee behaviour or management action.
How is employee engagement different from employee satisfaction?
Engaged employees are stimulated to show up to work every day and do their best. Whereas satisfied employees may enjoy their job, but it does not necessarily mean they are engaged.
Why is employee engagement critical?
The Covid-19 pandemic brought about a considerable shift in the way we work. More team members than ever are working remotely. Worry, stress, anger and sadness increased for employees, according to Gallup. 
You must know how your team feels, whether at home or in the office, to address any issues before they start costing your business.
Foresight and agility are even more business-critical in a post-pandemic recovery. Almost 18 months later, Covid-19 cannot be an excuse for poor service.
What are the drivers of employee engagement?
Research shows that committed employees perform better. 
The most vital driver of all is a sense of feeling valued and involved. The Institute for Employment Studies highlights several critical components for achieving this:
Involvement in decision-making

The extent to which employees feel able to voice their ideas, and managers listen to these views and value employees' contributions.

The opportunities employees have to develop their jobs.

The extent to which the organisation is concerned for employees' health and wellbeing. 
How do better-engaged employees drive business performance?
Worryingly, Gallup states 80% of the global workforce disengaged at work. It estimates that the cost of disengagement to the worldwide economy is US$8.1 trillion!
Highly engaged employees are more present and productive. Gallup's most recent meta-analysis backs this up -- a study of many studies -- on team engagement and performance, the benefits of employee engagement were clear:
81% lower absenteeism

23% higher profitability

18% higher productivity (sales)

28% less shrinkage (theft)

64% fewer safety incidents 

58% fewer patient safety incidents

18% less turnover (in high-turnover organisations)

43% less turnover (in low-turnover organisations)

41% fewer quality defects

10% higher customer loyalty/engagement
Why should companies invest in employee engagement?
The Harvard Business Review reports that companies that invest in employee experience outperform those that don't.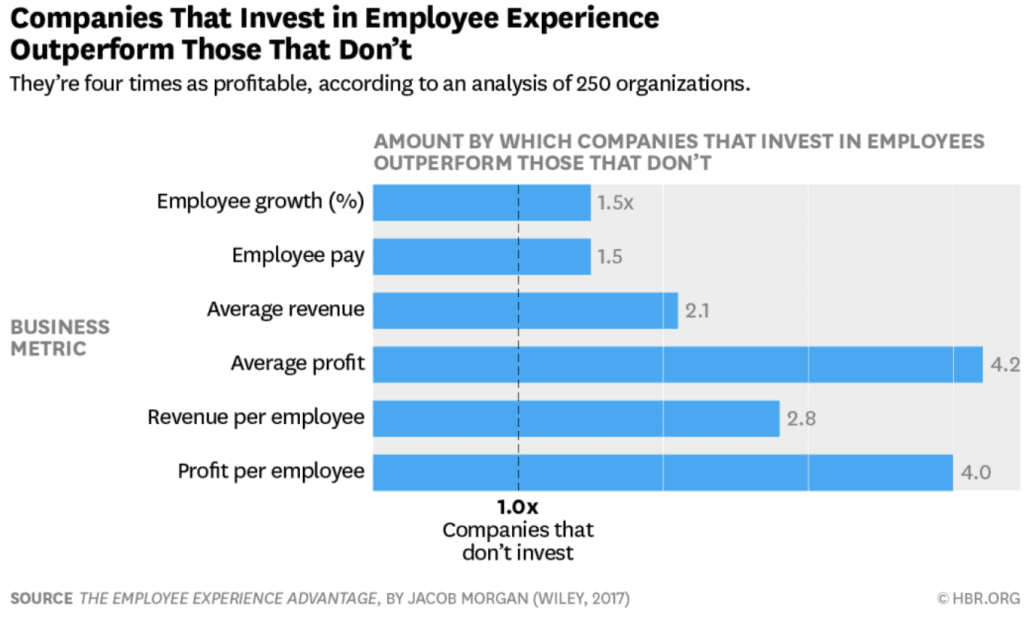 According to research from PWC, 86% of buyers are willing to pay more for a great customer experience. Plus, the more expensive the item, the more they are willing to pay!
Investing in employee engagement shouldn't be seen as a time or cost investment, but rather a saving, as evidence by the benefits of employee engagement previously.
As a customer experience business, we have seen first-hand how employee engagement affects interaction with customers and how that impacts the brand for better or worse. Improving your customer experience is the surest way to retain loyalty, reduce cost and increase profits. 
How do employees impact the customer experience?
Your employees play a pivotal role in delivering your product or service.
Historical research shows that 80% of companies say they deliver 'superior' customer service. Yet, only 8% of customers of those companies thought the same.
Disengaged staff do not go the extra mile for your customers.
How are your staff performing in a world where the customer experience is fast becoming the main reason a potential customer chooses your business?
How can I improve employee engagement? 
It's clear that employee engagement is not a "nice to have"—it's a serious competitive differentiator. What's more - all employers have a duty of care to their employees to ask and understand how they're truly feeling and why.
In the current climate, the working environment is constantly changing and challenging to predict. It's essential to know the impact it's having on your staff. 
You need access to fast, actionable feedback from your team that makes them feel highly motivated, engaged and respected. 
How do you measure or track employee engagement?
The most common way to measure engagement is using surveys, but once a year is not enough. Ideally, it would help if you had a constant pulse on how your team is feeling.
A total feedback solution like instant insight can analyse the feedback from your team and customers. What's more, the system will enable you to benchmark your business against others within your sector, helping you to achieve a world-class customer AND employee experience.
But obtaining feedback is only the first step. 
You need to know how to interpret the data and, most importantly, take steps to up your game and profits. If you would like to hear more, we are here for you. We're the only CX specialists in the UK and Ireland, with 25 experts across the country.  
Three employee engagement questions companies should ask.
At insight6, we have transformed hundreds of businesses, helping to improve their customer experience. We know that leaders can do one simple (but essential) thing to enhance employee engagement: regularly check in on staff wellbeing. 
Below we share three of the six survey questions 1000s of companies are asking their employees.
1) On a scale of 1 to 10, how motivated do you feel?
Remember to always follow up with "why". It's a simple but vital question to ask regularly, especially to teams working from home, to gauge their motivation levels.
2) How are you feeling right now?
It's a powerful, easy-to-answer question you should be asking your team every day. Respondents click one of the three emoticon faces to answer. These faces represent whether they're feeling happy, content or sad. Don't forget to follow this question up with "why"?
3) How confident do you feel about the future?
Send this sentiment survey fortnightly or monthly to promote honesty and transparency in the workplace and quash any nasty rumours early. It is a crucial tracking measurement for long term strategic planning. Set targets and work towards them.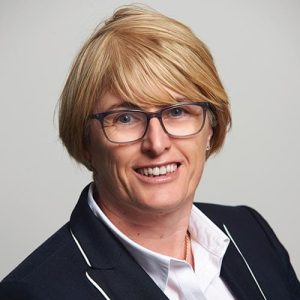 Mel Evans is a customer experience specialist at insight6, delivering more profit to business owners through better customer experiences. Connect on LinkedIn or follow @insight6CX on Twitter.
Image Source: Brooke Cagle via Unsplash